Hello everyone! I hope you all had a great Memorial day weekend. This year, my 4 year anniversary with my boyfriend, Ben, actually fell on Memorial day. Unfortunately due to scheduling, we were only able to spend the day together on Saturday. Because of that, Ben planned out a whole day for us to enjoy together. We started with a trip to the zoo, one of our favorite activities together. Then we had dinner at one of my favorite nice places to eat, The Melting Pot!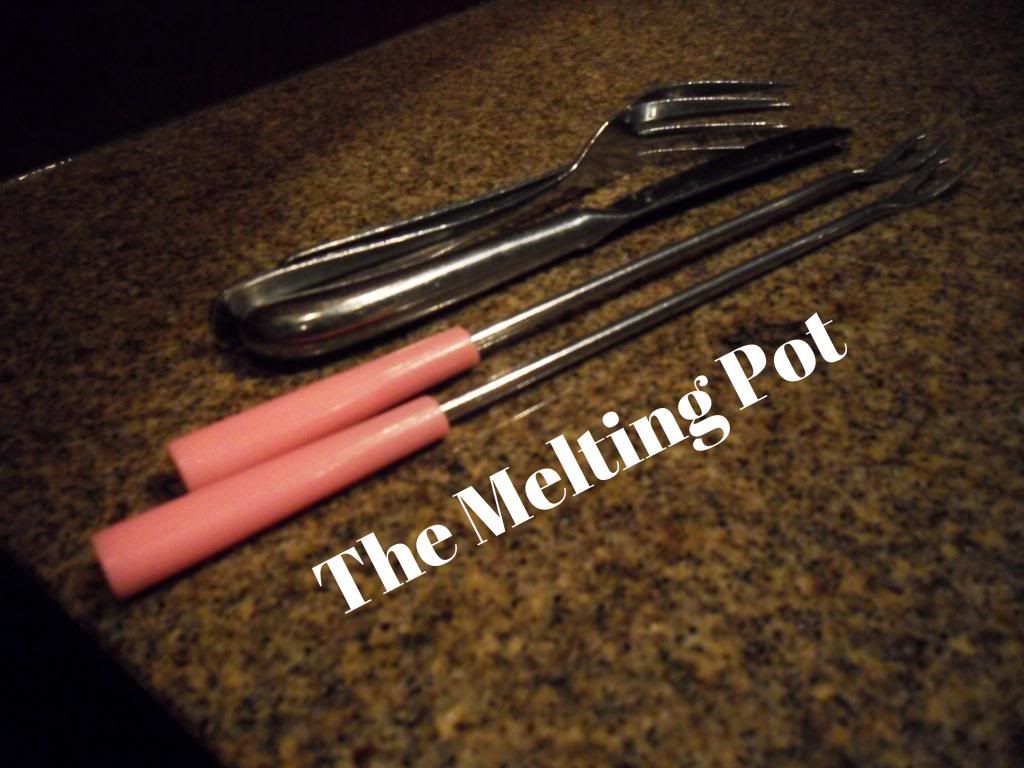 I'm sure many of you have heard of The Melting Pot, and some of you might have even gone. I wanted to give you guys the run-down from the vegetarian point of view...when dining with a meat-eater. This was our second trip so we pretty much mastered it.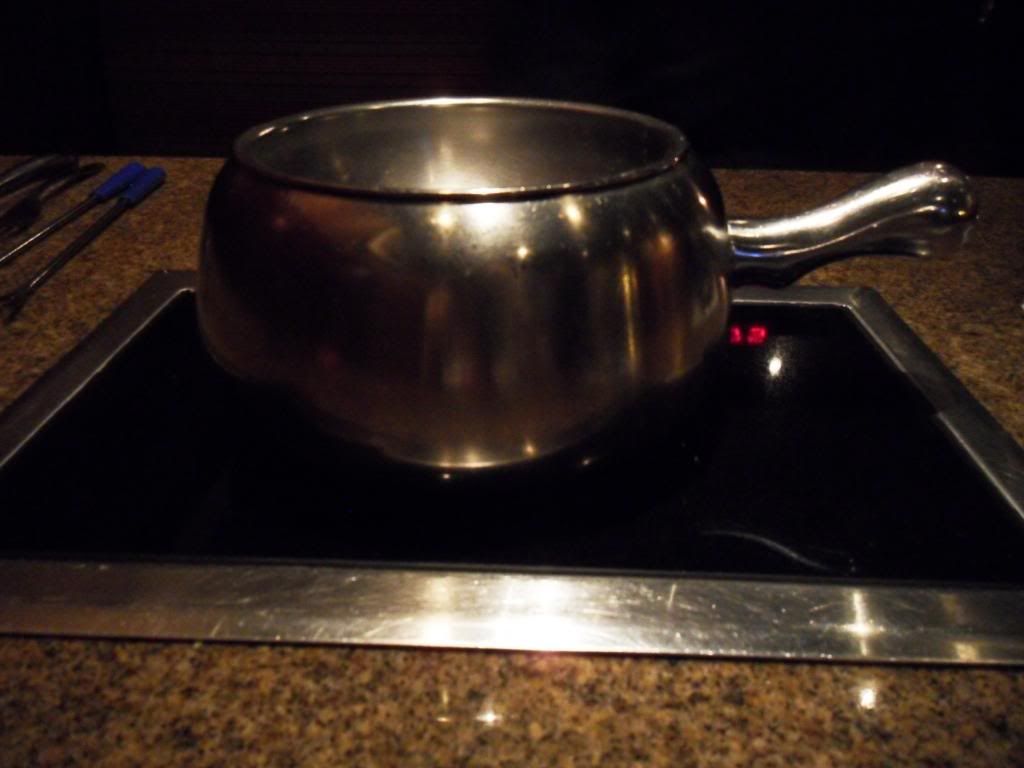 My first tip is
make a reservation
! This place is usually pretty popular, regardless of the time of year. Plus the dinners here take longer than at other restaurants. If you are looking to go during a holiday, like Valentine's day, make your reservations well in advance, unless you want to want dinner at a weird time.
When you get taken to your table, you will have a large burner, and a double boiler pot already waiting for you. Your server will come over, take your drink orders, and turn the burner on to get the water boiling. If you have never been to a Melting Pot before, they will explain how it all works. Luckily, you are reading this post, so now you'll know :-P
We opted for the full 4-course meal, but you can just get 1, 2, or 3 if you prefer. The 4 courses is great because you get to try everything, but it is a lot of food, especially for 2 people, so prepare to be stuffed!
Once we got our drinks, it was time to order our first 3 courses.
The first course is the cheese course, there are a few options to choose from but we got the cheddar.
Once our pot was steaming, the server came back with all the ingredients and mixed them together right in front of us. This one had 3 kinds of cheddar cheese, fresh garlic and pepper all mixed into a beer base. The cheese was pretty mild and super creamy and delicious!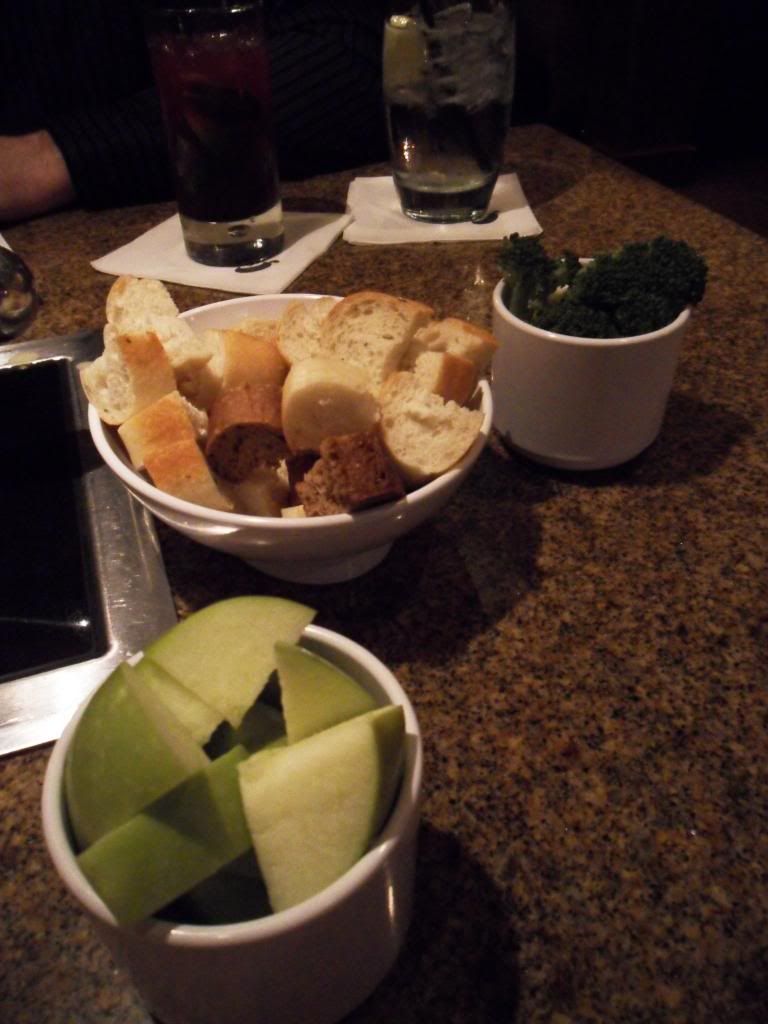 Every cheese course comes with 2 kinds of bread, veggies, and green apples. Its a nice assortment and everything can find something they like.
The next course is the salad course, again there are a few options to choose from.
I always get the California salad, wish it my favorite kind of salad! It has candied walnuts, cheese, tomatoes all over leafy greens. Its topped with a raspberry vinaigrette. This salad is so good, I love all the sweetness and the crunch of the nuts. It took everything I had to not gobble up my whole plate, but I wanted to save some room for the next 2 courses.
While we have the salad, the server removes our cheese pot and brings a pot of seasoned water. Once we finish our salads, the pot of water is boiling and ready for the next course.
Next up is the main course. There are a few options to choose from, but only one of them is vegetarian.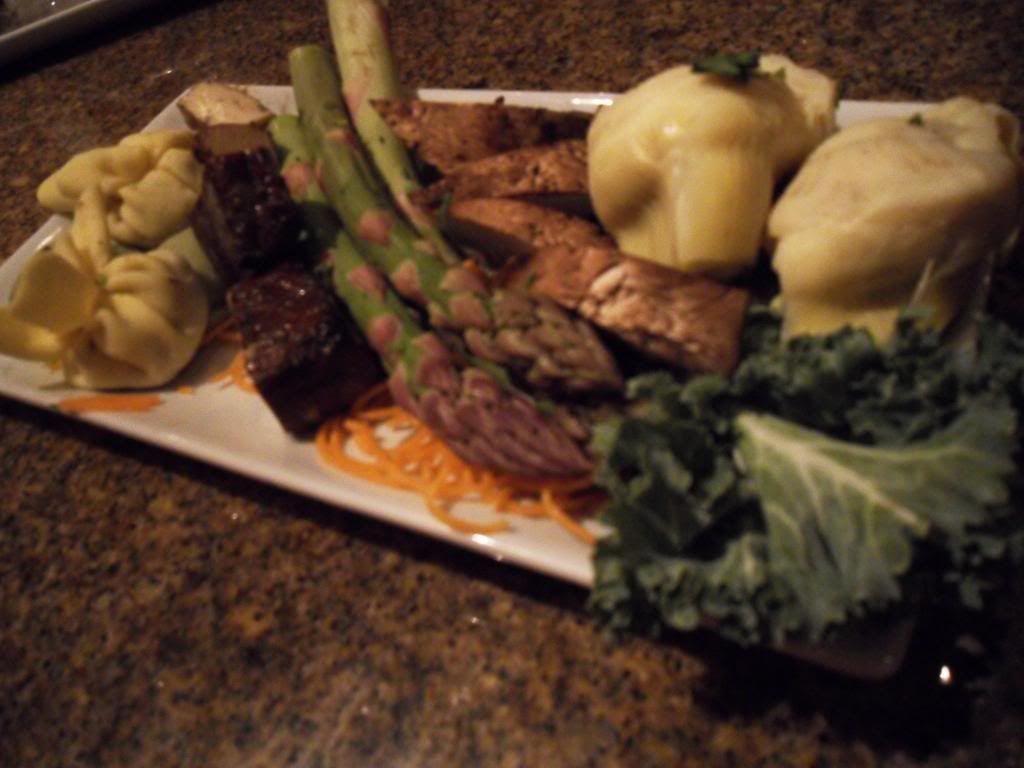 The vegetarian option comes with mushroom sacchetti, cheese ravioli, tofu, asparagus, mushrooms, and artichokes, all raw. Every meal comes with 6 different sauces and a bowl of raw mushrooms, potatoes, and broccoli.
This is where it gets tricky, which leads me to my next tip. Ben ordered the seafood trio, and as a vegetarian, I am not comfortable with eating my food that has been cooked in the same water as meat. The way this set up is supposed to work is that we poke our food with the sticks, place them in the water to cook, then eat that bite while the next is cooking in the water. The way Ben and I set it up is to
dump all of the veggies in, both the ones for my meal, plus the additional ones they bring, then once they are all cooked, scoop them out with a spoon, then I no longer need the cooking water, and Ben is free to cook his fish.
It only takes a few minutes for the food to cook in the boiling water.
We divided the group veggies between us, and I put all of mine onto my plate, and went to town trying all the sauces!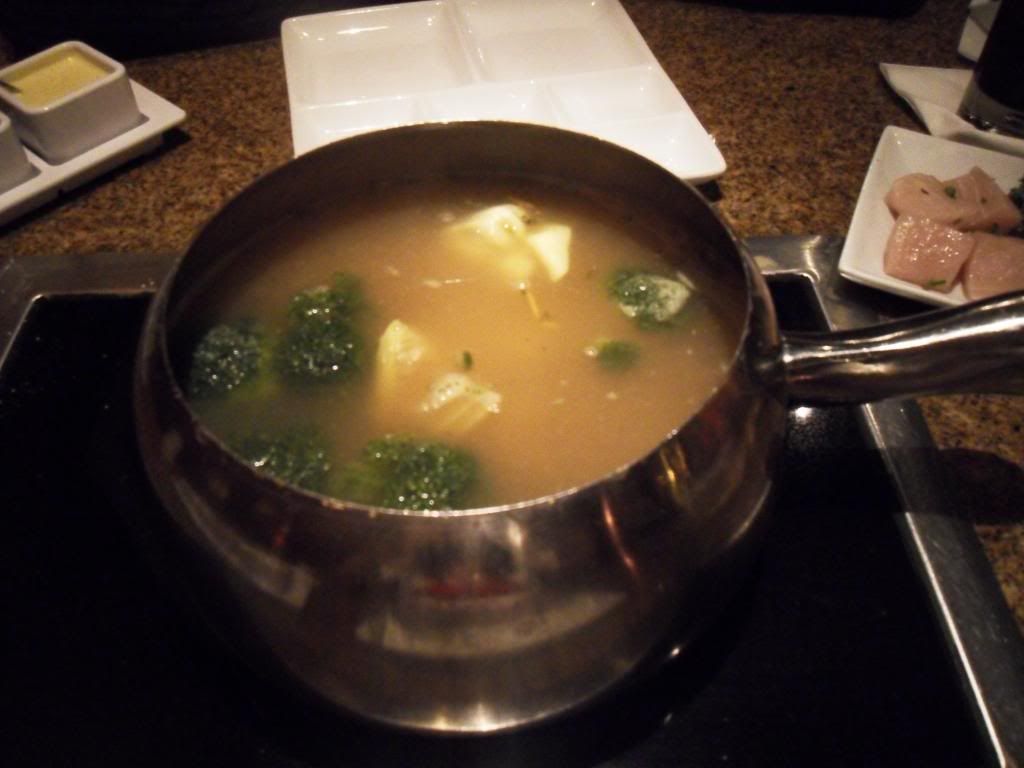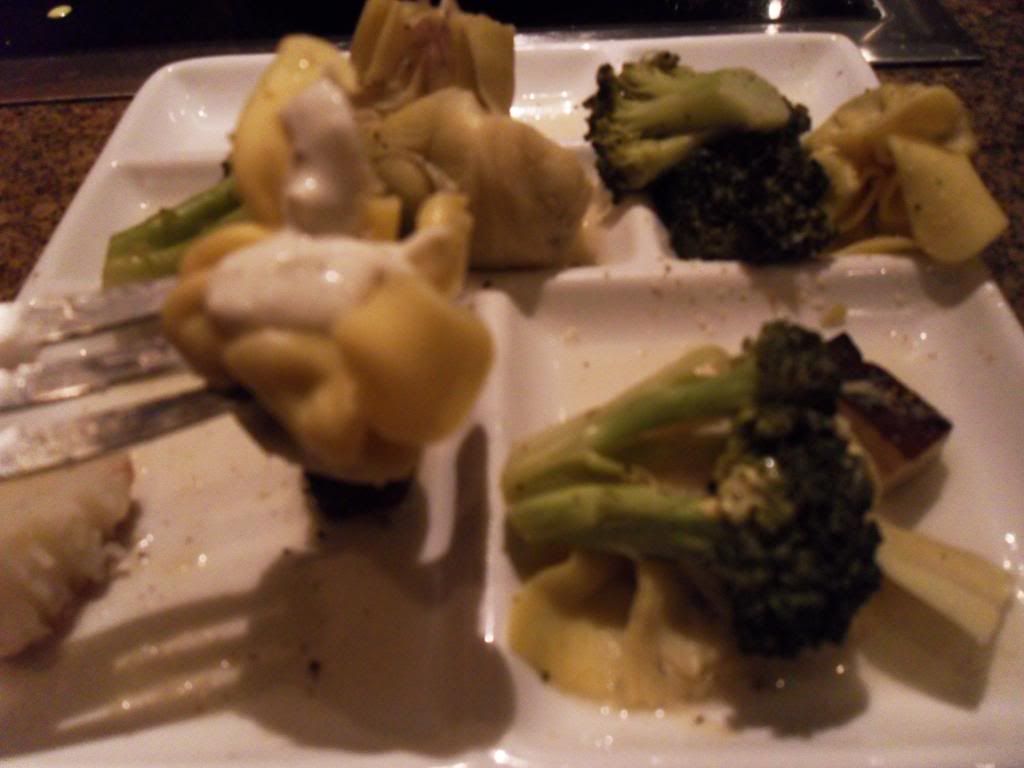 All the food is hot and fresh because you cook it all yourself. The sauces are so amazing and really make the meal. It was fun trying out which sauces go best with each thing I had on my plate.
Once we finished up our main course, our server was back to clean up and take our last order: the chocolate course!
We opted for one on the specials menu that night, which composed of dark chocolate, dulce de leche, and sea salt! I have been obsessing over salted chocolate lately so I was really excited to try it.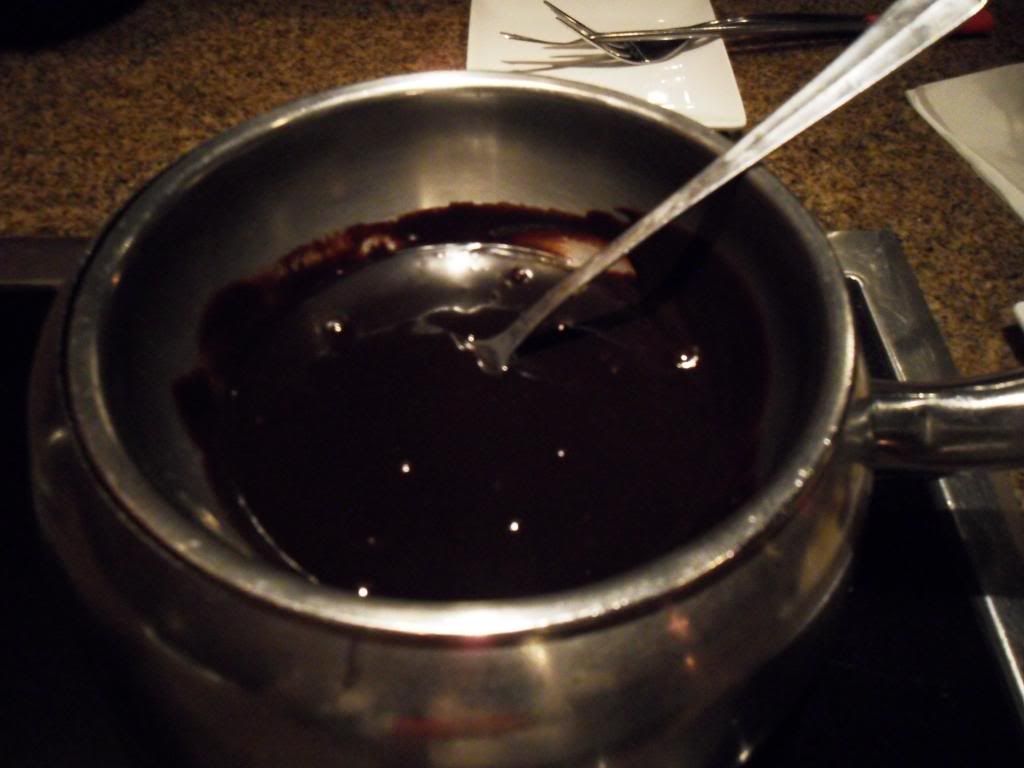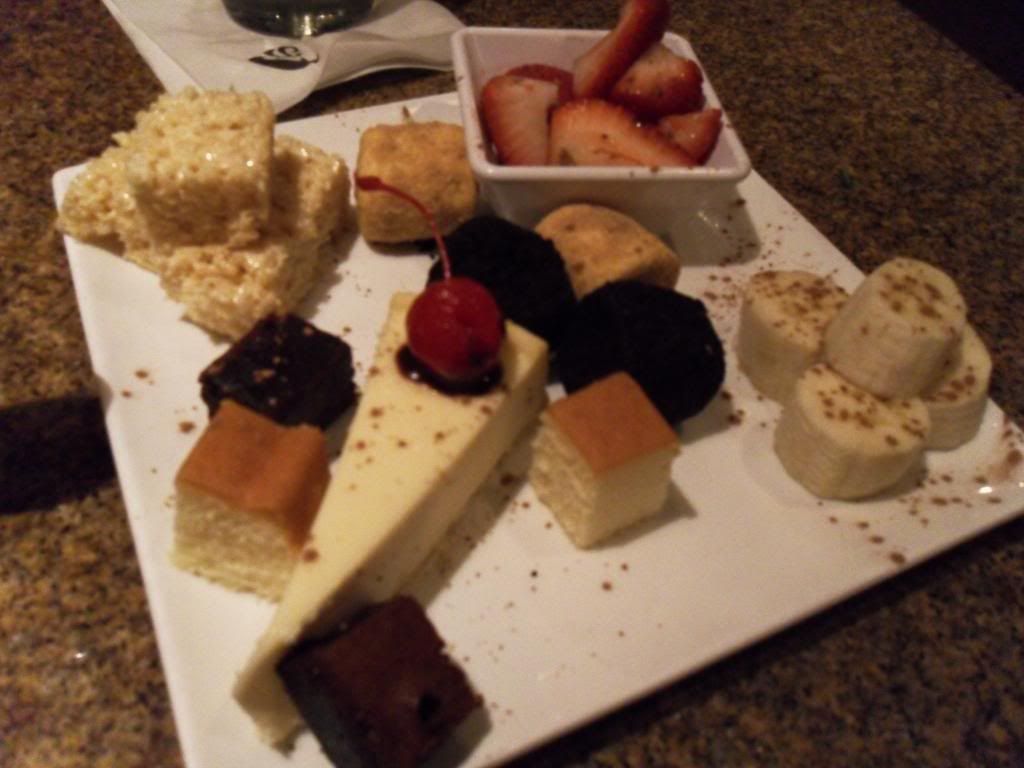 Each chocolate course comes with a plate of strawberries, bananas, brownies, cake, cheese cake, marshmallows and rice crispy treats.
Remember: marshmallows aren't vegetarian
, so leave them and the rice crispy treats to the side.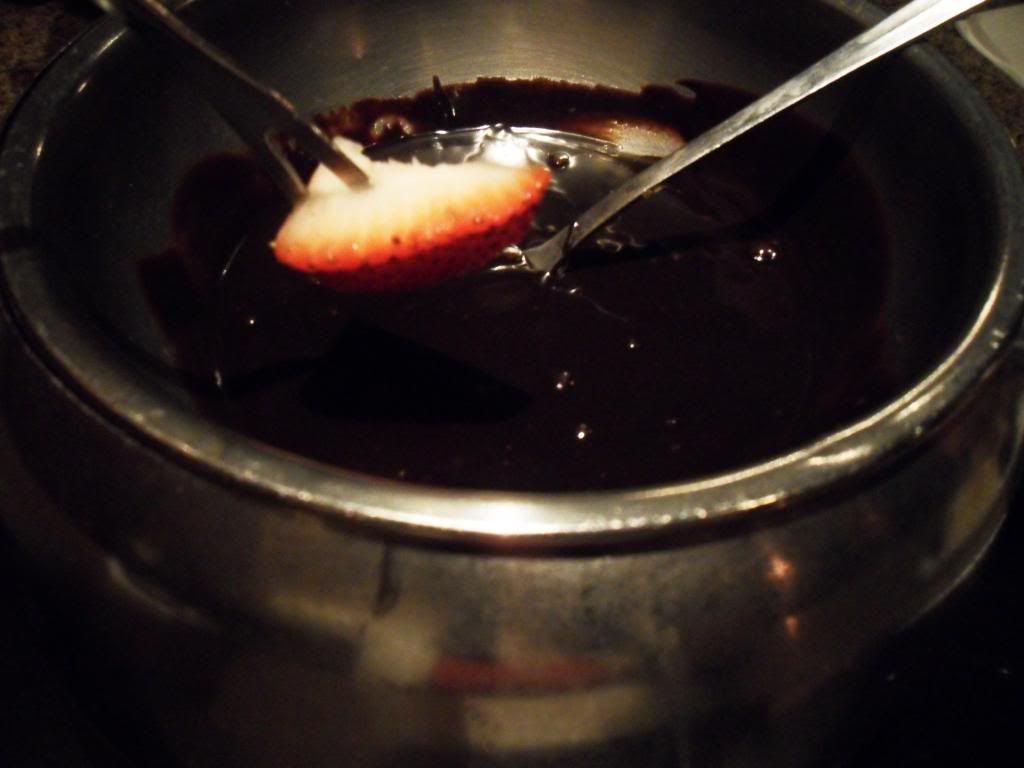 The mix of the dark, bitter, chocolate and the sweet dulce de leche was the perfect combination. You couldn't taste the salt at all, but they left the shaker on the table so you can add more. Ben doesn't like salted chocolate, so I just salted each bite of food after I dunked it in the chocolate. Call me weird, but it was delicious!
Its not hard to see why I love this place so much. everything tastes amazing and its really so much fun to dip your food all night, and to cook it yourself right at the table! You get to play with your food, and its actually socially acceptable. Fondue really is FON-to-do! Get it? Ahahah! This is why Ben can't take me to nice places often...
Have you never been to The Melting Pot? Do you plan on trying it out?
Bye from the Veggie Side!