Hello everyone! I hope everyone enjoyed their new years, and everyone has recovered, and decided on their resolutions. I am continuing to try and make conscious vegan choices. One common resolution is to try and be healthier, for yourself, and maybe even your family too. Besides exercise (and vegetarianism, of course) one easy way to be a little healthier is so take vitamins. I am terrible when it comes to taking vitamins, but it is a great habit to get into. But just when you think something is safe for vegetarians, they find another food to put animal products in. What's that? Flintstones Vitamins! Yes, those chewable, tasty vitamins with out favorite Flintstones characters on them! Wanna guess what's in them?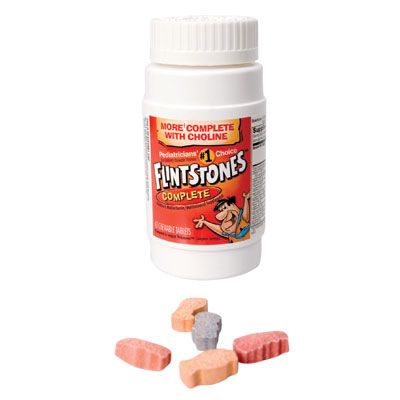 Source.
Source.
Of course, gelatin. Always the culprit!
However, vitamins are one of those things that many vegetarians take, whether it is because they gave up meat because they are health conscious, or they started taking them to get more vitamins after giving up meat, so there are plenty of vegetarian vitamins.
Vegetarian Vitamins
is an online store dedicated to only selling...vegetarian vitamins! Also, don't forget to check your local Whole Foods, Trader Joes, or any other health food store. They carry lots of vitamins, and I'm sure it will be easy to find ones without gelatin.
Did you used to take Flintstones Vitamins? Will you be switching to different vitamins, or even begin taking them?
Bye from the Veggie Side!