Hey everyone and welcome to today's Awareness Wednesday. I was saving this topic specifically for November. When some people think of marshmallows they picture a warm summer night making s'mores by the campfire. However, my all time favorite season is fall! I live for the cool air, changing leaves, changing fashions, and most of all PUMPKIN! So when I think of marshmallows I think of Thanksgiving sweet potatoes and hot chocolate. So November was the perfect month to talk about marshmallows.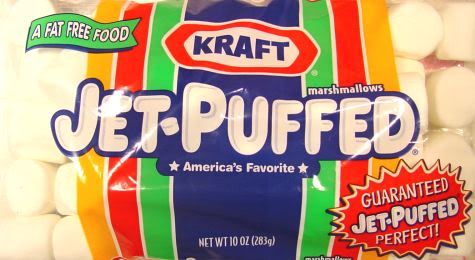 Source.
Everyone knows what marshmallows are are everyone has eaten them. They are sweet and really fun too, with lots of possibilities. But not too many people know, or even care, about what's in them: lots of sugar, chemicals water, and...
Gelatin
!! I linked to my original Awareness Wednesday post, but again just to remind everyone, gelatin is the bones and connective tissues of various animals like cows and pigs.
Remember, I am not just talking about the big, white, fluffy marshmallows. Marshmallows are in a lot of desserts and breakfast cereals. If anything says it has marshmallows in it like Lucky Charms, Rice Crispy Treats, Mallomars, or rocky road ice cream READ THE INGREDIENTS before eating!
Source.
Well I might have to give up fish sticks, turkey burgers, and leather shoes, but I was NOT going to give up marshmallows, especially when they are a staple of my favorite season. One year my dad and I tried a recipe to make our own vegetarian marshmallows and it was a complete disaster, until I remembered about marshmallow fluff! You remember? The amazingly delicious marshmallows out of a jar that's great with peanut butter? I mean, basically all it is is marshmallows that don't retain their shape, so why would it need to have gelatin? Well I was right! Fluff only contains corn syrup, sugar, eggs whites, and vanilla! Ok so you can't stab it with a stick and cook it in a fire, but you can substitute all your fall favorites with it!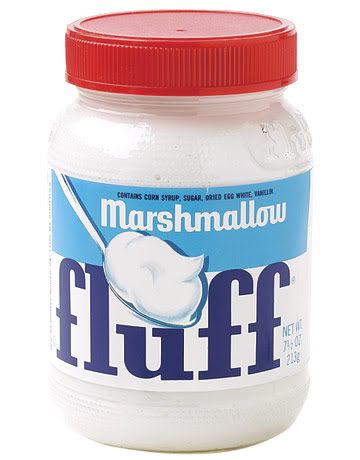 Source.
While most thanksgiving sweet potato dishes call for marshmallows on top, I just cover it with dollops of fluff on top and pop it in the oven. The marshmallows end up melting and looking like the fluff anyway, and it still gets golden brown and tastes the same just without the dead animal parts. Can't beat that! Try adding a scoop to your hot chocolate too! And if you just can't live without that marshmallow, graham cracker, chocolaty goodness, then try assembling your s'more with the fluff, wrap it in tin foil, and put it on the edge of the fire. BAM! Warm, sweet, melty, gooey summer goodness that's vegetarian!
Source.
My goal is to show people that you can be a vegetarian and still eat just like everyone else does, just with a few tweaks here and there. And you never know, you might even get a meat eating friend to switch over just for one meal.
Will you be trading marshmallows for fluff this fall?
Bye from the Veggie Side!