Hey everyone! I have something special planned for my next few posts. Last weekend I went to Austin, Texas to visit my brother, David, and my sister-in-law. I really love Austin! I havn't spent much time in the other Texas cities, but from what I know, Austin is completely different than the rest of the state. While Texas might be full of steak, BBQ, and cowboys, Austin is filled with hippies, art, and vegetarians! Austin's motto is "Keep Austin Weird." I have heard my brother call it "the blueberry in the cherry pie." I love seeing my brother and I really love Austin too!
Like me, both David and my sister-in-law, Deborah, are vegetarians. Luckily Austin is filled with vegetarian restaurants plus regular restaurants with lots of veggie options! I always knew that I would find something great to eat. Over my next few posts I will be highlighting the foods I ate white visiting Austin!
The first place we ate after the plane landed was a place called Diner 24. This wasn't a diner in the regular sense, it was really nice and had lots of great food.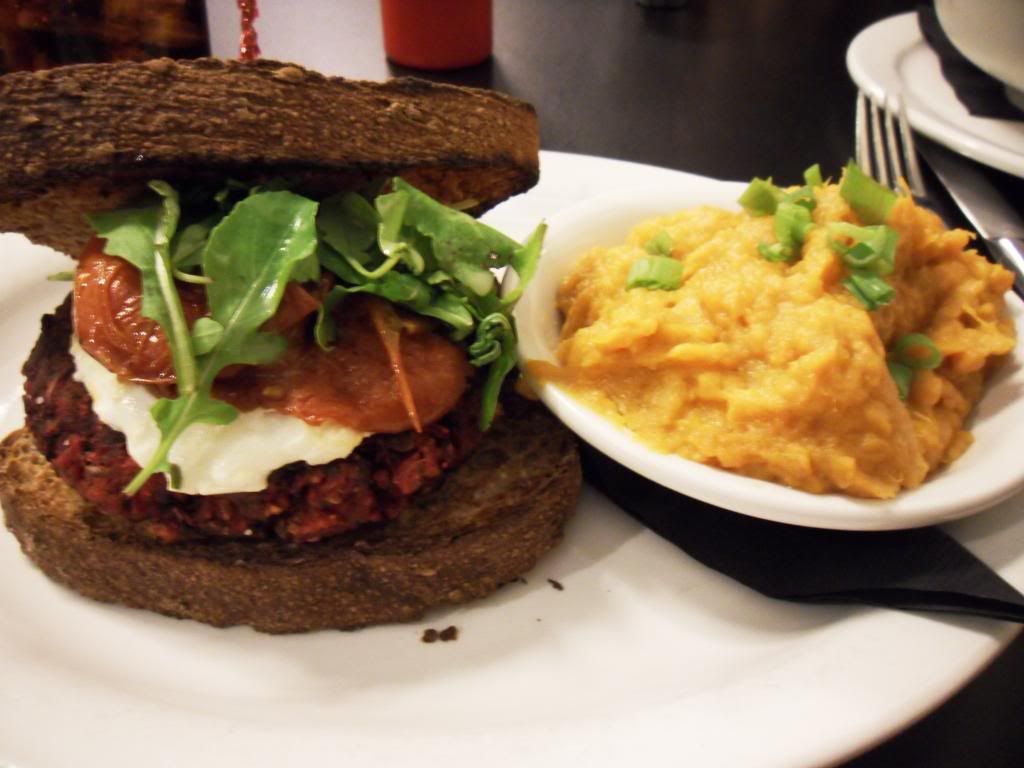 I ordered the veggie burger, which was really good! It was a beet based burger which gave it that pretty purple color. It was also filled with flax and pumpkin seeds which gave it a nice bite. It was topped with goat cheese, that when it melted was more like a sauce than a cheese. It was super creamy and tasty. Last, this burger had roasted tomatoes and basil which gave it an Italian flavor. I opted to have mashed sweet potatoes as my side, which were so amazingly creamy and delicious. This was such a unique veggie burger, it was a nice change from the same ole same ole.
My brother also ended up ordering the veggie burger too, you will notice that is going to be a recurring theme.
For dinner that night we went to place called Kerby Lane. Again this wasn't a vegetarian restaurant, but it did have lots of options for us to choose from.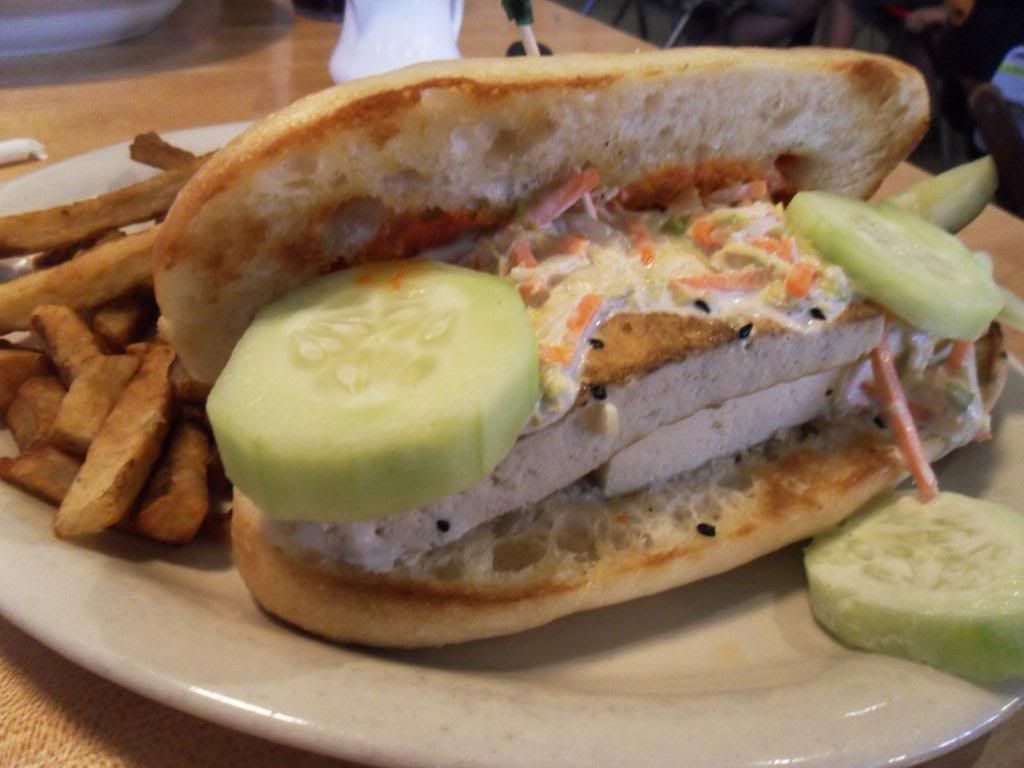 Both David and I ordered the Asian tofu sandwich off the specials menu. We both really liked this sandwich. The tofu itself was a bit bland, as tofu has the tendency to be, but the siracha sauce that was on it gave it a great kick. This sandwich was then topped with cucumbers and Asian coleslaw which gave it a great flavor. The creaminess of the coleslaw really went well with the spicy siracha. I paired my sandwich with fresh cut french fries. Yum!
After dinner we got hit with a killer storm that ended up flooding some of the streets, and if even hailed in some areas. Overall we had a nice first day with some great food.
Have you ever been to Austin? Would you like to go visit?
Stay tuned for more Austin food posts!
Bye from the Veggie Side!