Hello everyone! Today I have another installment of The Veggie Burger Chronicles. As a vegetarian that doesn't just eat salads, veggie burgers are a big part of my dining out diet. They are found it many different restaurants from diners, to American cuisine. However, what I really love is how veggie burgers are becoming more and more common at burger joints! Most people go to burger places to eat cows, that you wouldn't even think they would have vegetarian options. But with vegetarianism gaining popularity, so is the veggie burger. My best friend,
Sara
recently found a new burger spot in our area that she new I would love, so the two of us, plus another friend, went to check it out.
It is called
Elevation Burger
(you totally want to click that and check out the website). While elevation burger is primarily a beef kind of place, all the meat is organic, and the cows are free-range and grass-fed. While I'm not a fan of eating meat, if you are going to eat it, that is the way to do it and I can totally get on that bandwagon! The menu has a handful of beef burgers to choose from, plus a salad and grilled cheese. But what I am here to talk about is the veggie burgers. They have two..yeas TWO kinds! In a place with such a small menu, I was shocked and pleased that there was actually a choice! Most places just offer "the" veggie burger. Hold on, it gets better. One of the veggie burgers is actually vegan! How freaking awesome! As I am working on making better choices, I chose the vegan burger, and my 2 friends each got veggie burgers. Once you pick your burger (veggie or otherwise) you then pick any toppings you would like. Going with the vegan theme I opted out of cheese and added lettuce, tomatoes. and balsamic mustard. You can pick any toppings for any kind of burger, and there is also an option to wrap your burger in lettuce instead of eating it on a bun.
They offer a few sides, but I chose the french fries. My burger came out looking just like the meat ones, on a tray wrapped in paper, really giving it an authentic feeling.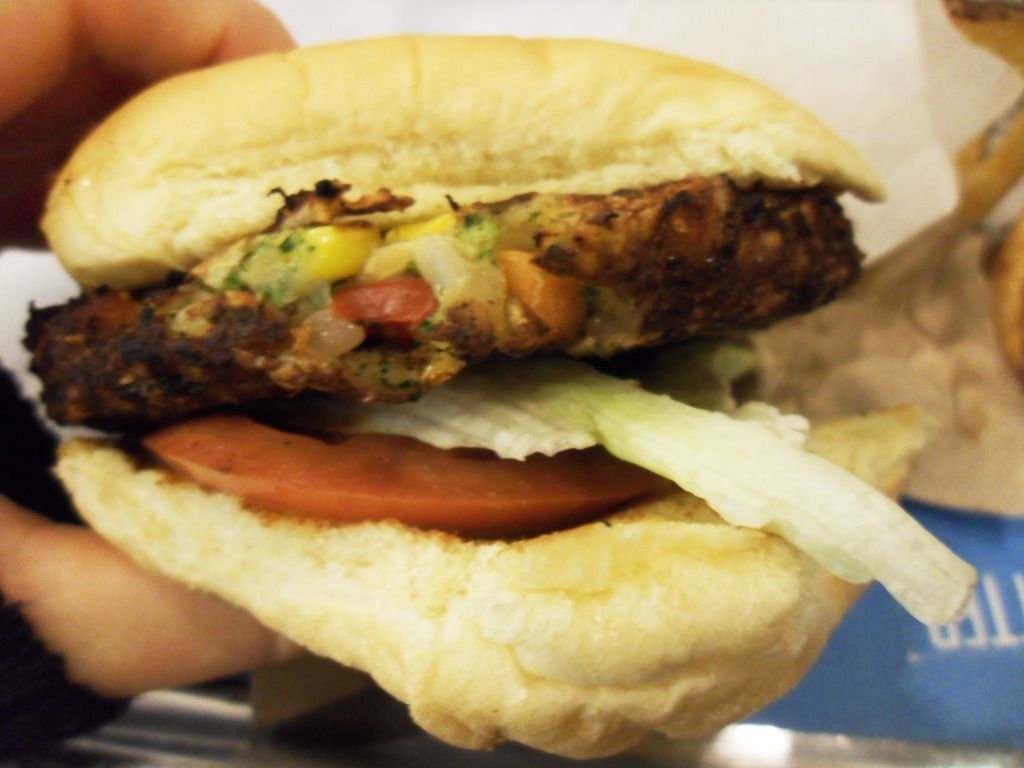 This little vegan burger was packed with veggies. It has a great grilled flavor, without tasting like meat. The sauce on it was tangy and delicious and a nice change from the basic ketchup. While the portions are a bit small, everything was pretty filling, though I did feel like I could eat a little more soon after.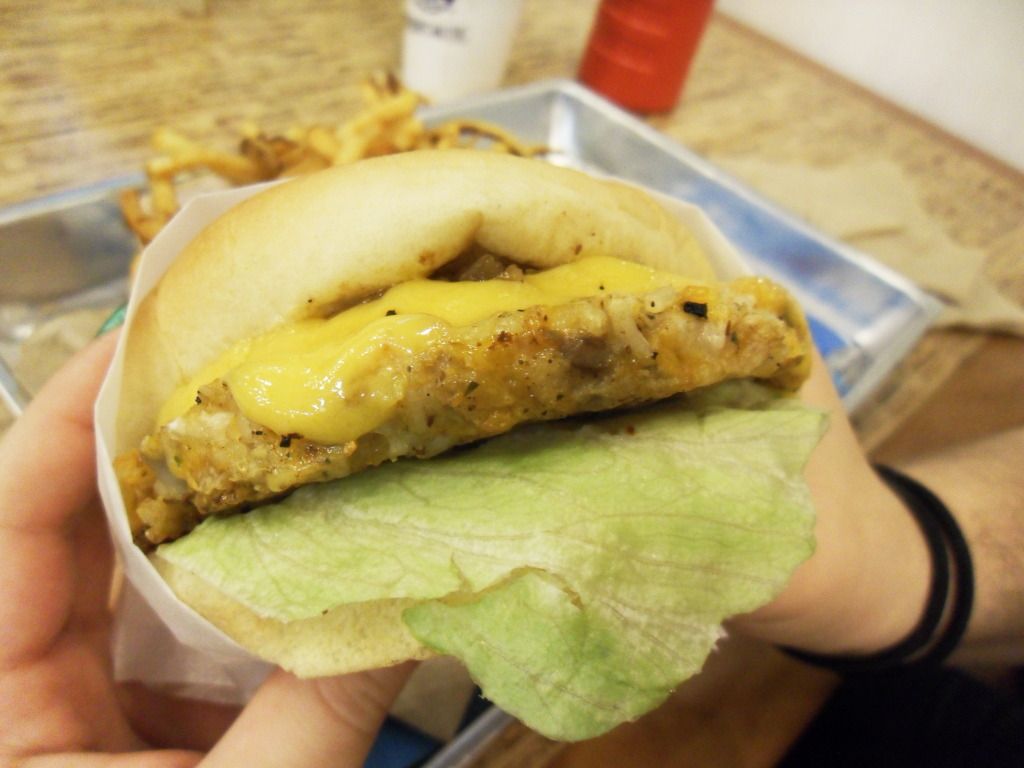 This was Sara's veggie cheese burger. This had a much more meaty, and less veggie taste, if you are looking for something that tastes more like a regular burger. I tried some and it tasted great! Very flavorful and delicious, and even Sara who eats meat loved it!
Overall I really liked this place! For the portions/price it was a tad expensive for what seems like a fast food place, however everything tasted amazing and of course there were plenty of vegetarian options. I love that you can customize your meal and that everything is made-to-order. I also feel good taking my meat-eating friends here. I mean if you are going to eat meat, I'm glad it can be cruelty-free and organic. One thing they were lacking was a turkey burger, which I thought was pretty weird since they offer two veggie burgers and turkey burgers are very popular for those that don't eat red meat.
I would recommend that any vegetarian, vegan, or meat eater to try this place! They have locations in a number of states so I hope all of you can be able to try it!
Have you been to Elevation Burger? Would you want to try it?
Bye from the Veggie Side!