Hello everyone! Today I bring you one awesome meal that you wont believe is vegetarian! It all started a few years ago, with a conversation between me and my boyfriend, Ben. Ben eats meat, a lot of meat, and many kinds of meat and meat related things. But one food we loved to share was pizza. Ben opened my eyes to the most amazing sauce to dip my pizza crusts into, ranch dressing mixed with hot sauce. Then during one pizza dinner Ben says "I with you could try Buffalo chicken pizza, they pour the ranch dressing right on the pizza!"
One of my goals as a vegetarian is to be able to eat any meat food, vegetarian style. I have had my share of veggie burgers, soydogs, and even vegetarian sausages. Just because I am a vegetarian doesn't mean I wont be able to eat Buffalo chicken pizza! I felt the need to show Ben that it was possible. Just a quick trip to the super market and a call to my favorite New York pizza place and the vegetarian Buffalo chicken pizza was born!
I started with my favorite brand of soy meat, Morning Star Farms. They make all kinds of veggie meat from ribs, to sausage, to chicken, including Buffalo wings.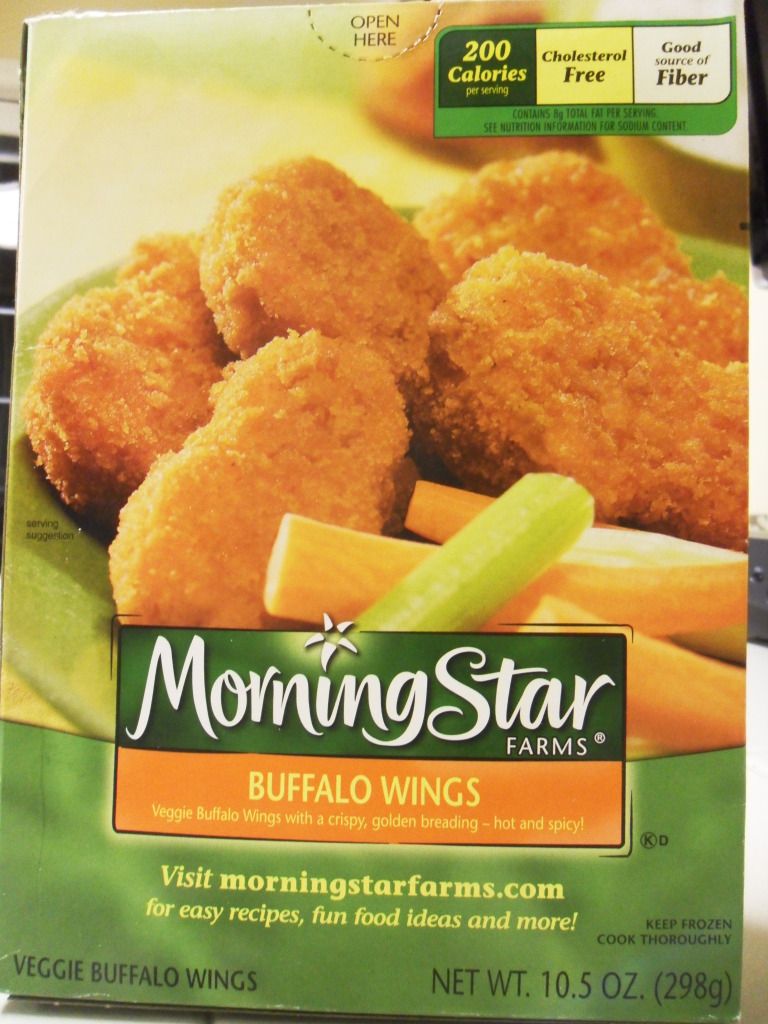 These chicken nuggets are shaped like mini drumsticks and covered in bread crumbs. And of course, a layer of spicy Buffalo sauce flavor. This is where I started on my quest for Buffalo chicken pizza.
I popped a few of these in the microwave, and cut them up into bite sized pieces. I then grabbed a couple of slices of pizza that I ordered in for a local pizza place and put the chicken pieces on top. Of course I had to finish this pizza off in the way all of this stared, with ranch dressing. Now I have never had "real" Buffalo chicken pizza, but I like to think what I made was pretty damn close!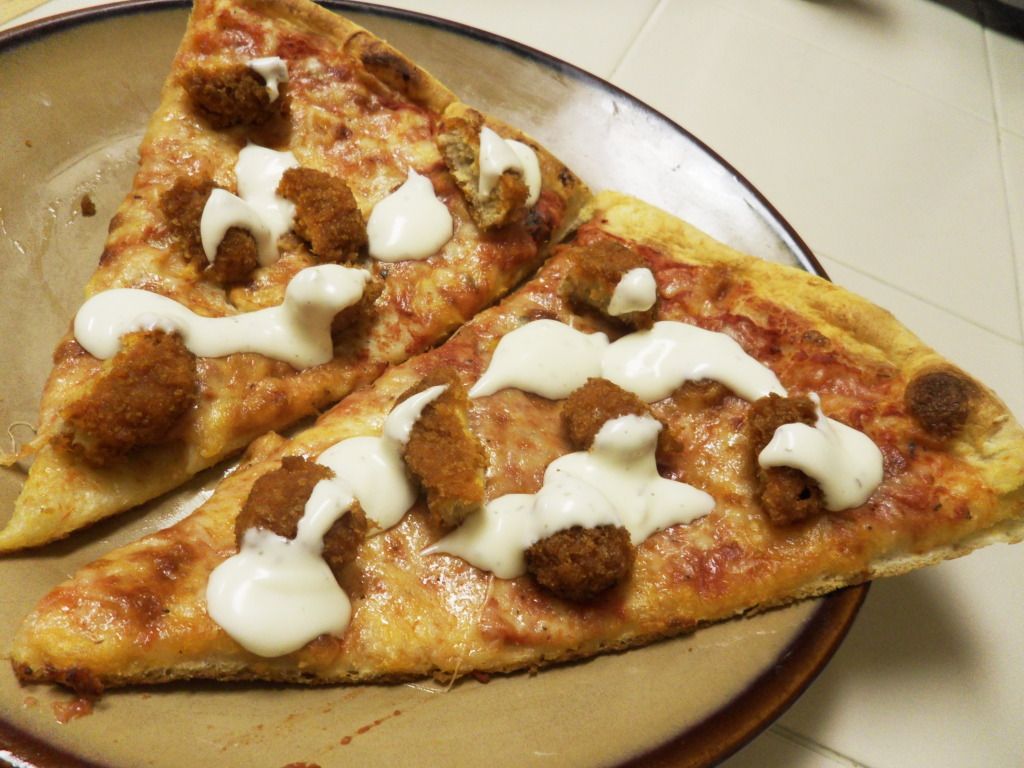 In the end what I had created was delicious. The spicy Buffalo flavoring and the ranch work together perfectly, and nothing is better than pizza! And proving Ben wrong. So for those of you that have given up Buffalo chicken pizza when you became a vegetarian, or those that never had it and want to try something new and meaty (without any meat) you need to try this pizza.
Will you be making your own veggie version of the Buffalo chicken pizza?
Bye from the Veggie Side!