Hello veggies! How was your thanksgiving? My family ended up celebrating on Wednesday this year, and today I am at my boyfriend, Ben's, house to celebrate with his family. Thanksgiving is always a cross roads for vegetarians. Most people automatically associate Thanksgiving with turkey. I mean a whole holiday centered around dead turkey. Actually, it is one of my favorite holidays. I love all the seasonal foods, and I love to cook. I really enjoy looking for new recipes for each year to try to make for my family. I think it is really sad that people just need to have their turkey on thanksgiving. Why? Its tradition? So change tradition! So many turkeys are mass tortured and killed for a tradition. But hey, I guess so were the Native Americans. I digress.
I love to make a verity of "sides" for my family's dinner. My dad makes the turkey, which I of course opt out of, and I make everything else, which becomes my meal. When I was about 13 years old I made mashed potatoes for my first time. Well with just a little help from my dad. And everyone loved them! Now my mashed potatoes are a staple of thanksgiving every year. They are so easy to make and taste amazing, I am always happy to make them.
Sadly, I have been making these so long, just by adding ingredients and tasting, that I don't actually know how much of each ingredient goes into these. They way my dad taught me to make them was to add a little bit, then taste, add more, and taste. His piece of advice was "you can always add more, but you can't take the extra away." So that's what I did. One day I will figure out the amounts and then I can sell my recipe and win a mashed potato medal.
Here's what I used:
6 large white potatoes
1 clove of garlic
Half and half
Butter
Salt and pepper to taste
What to do:
Start by setting a pot of water to boil
Then peal and cube potatoes
Add potatoes to the boiling water until they are soft enough to split them with a knife
Drain the potatoes, and then put them back in the pot
Time to get mashing!
Always start with the butter. You want the butter to melt so the potatoes need to be hot. The more cold ingredients (like half and half) and the more you mash, the cooler they will get and it will take longer for the butter to melt. I believe I put in about 4 tablespoons.
Once the butter is in and melted, add a small pour of half and half and start mashing!
Continue pouring, mashing, and tasting until your potatoes are smooth and creamy. I like my potatoes to still have some chunks of whole potato so I don't do over board on the mashing. If you like them smoother, then keep mashing away!
Once you get the creaminess you want, add in once diced clove of garlic and mix
Finally add salt and pepper to taste. Again my dad made me follow his rule and only let me add just a bit, so I always needed to add more salt to my serving.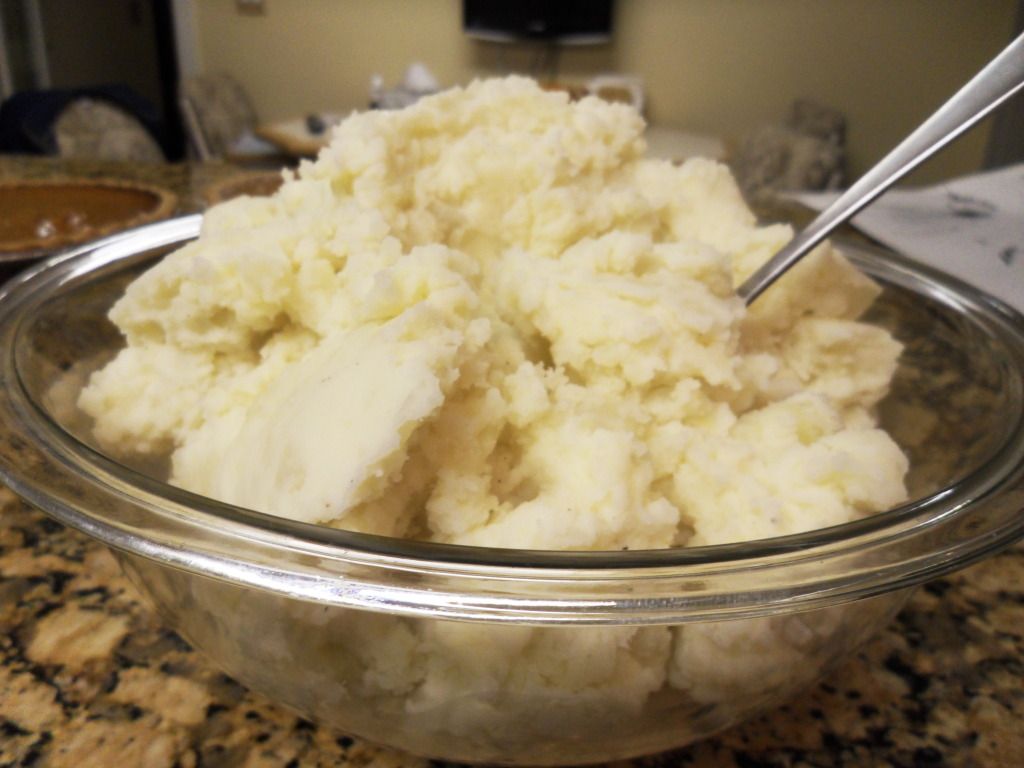 The key to these potatoes is to make them from the heart. Add a little of each ingredient until you know the amount is just right. In the end, that's what cooking is really all about.
Do you love mashed potatoes as much as I do? Will you be whipping these up at your next family dinner?
My next few posts will highlight some of the other dishes I made for my family's thanksgiving dinner. It is super easy to enjoy an amazing thanksgiving dinner without the need to eat turkey. I have been doing it for 12 years and I never feel like I am missing out on anything!
Bye from the Veggie Side!